Filter by Category
Outdoors
Understanding Today's Fishing Technology
with Chad Bleeker

Sep 6, 2023 at 5:30 pm
Chad Bleeker will share Electronics Demonstrations and Informational Videos to help you make the best of the latest fishing technology.
 Added information on reading graphs and adjusting settings.
About the Instructor: Chad Bleeker owner and guide of Norfork Bayou Fishing. I specialize in striper, bass and crappie fishing on Norfork. Retired insurance agent from Michigan. I started guiding in 2020 and moved to Gamaliel Arkansas after visiting the area for the past 15 years. I have fished all my life and enjoy helping and introducing fishing and techniques to others. I also specialize in electronics classes and understanding the latest technology.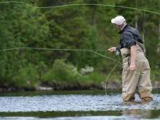 Fly Fishing
with John Berry

Oct 5, 2023 at 6 pm

, runs for 4 weeks
Let two knowledgeable local guides teach you to fly fish, in a safe and comfortable environment. Subjects include fly casting, water safety, equipment, knots, rigging, four basic fly fishing techniques, reading water, and fly selection. No equipment is needed. Rods and reels are provided at each class meeting or you may bring yours. Learn everything you need to fish on your own.
Class will be held Dryer Hall 1st Floor, Room D106